Cars of Yesteryear
|
home




Cars of Yesteryear

Welcome to Cars of Yesteryear
I hope you enjoy your visit

These pages have oldies music
song playing "Blue Monday"

Cars of Yesteryear™ is proud to offer this salute to our great
nation. Click on the link above to visit the page.

The photos load slowly as they are high quality and
I did not want to compromise them.

This site is dedicated to the memory of our classic cars from the past.
The primary emphasis is on American classic cars and muscle cars from the 70s and before. This was the era of design and individuality that
has been lost forever in the mists of time.
I have included in these pages many photographs of classic cars,
muscle cars, antique cars, limited production cars from the past for your enjoyment. Some you may have seen before, many you have not.
Enjoy the site, and thanks for your visit.
* *Special notice to my visitors.**
I have decided to delete all advertising from this site. While I took
special care to only host automotive related firms with a solid reputation the response was poor. I like many others am relucant to buy over the net so I do understand.
I will keep this site up as long as I can without financial assistance.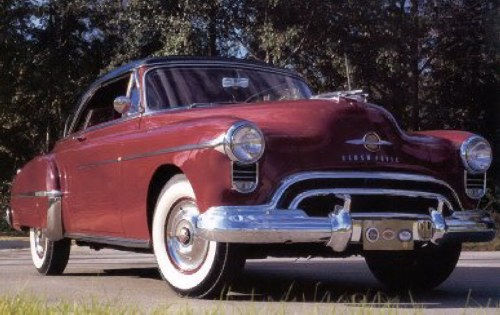 1950 Oldsmobile Holiday Coupe
303 c.i. OHV V8
135 hp @ 3600 rpm
The "Rocket 88" is considered the first post-war era American muscle car.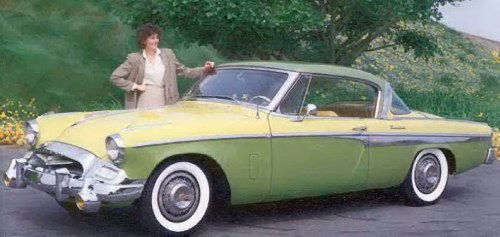 1955 Studebaker President Two-Door Hardtop
259.2 c.i. OHV V8
175-185 hp @ 4500 rpm
Limited Production
2215 produced in 1955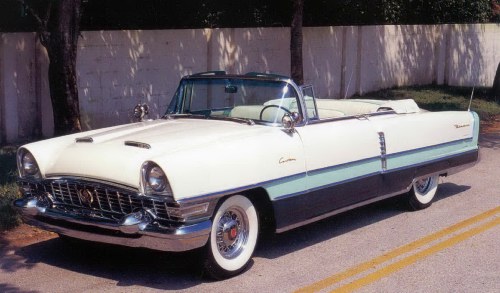 1955 Packard Caribbean Convertible
352 c.i. V8
275 hp
Dual Rochester 4bbl carbs
Dual exhaust
A limited production convertible costing slightly under $5000,
the car proved so popular the entire production run sold out
in less than four months. The car had full torsion bar suspension
controlled by an electric self leveling system.
Also had a Twin-Ultramatic automatic transmission designed by no
less than John Z. Delorean.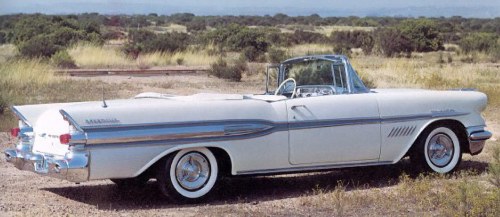 1957 Pontiac Bonneville Convertible Custom Coupe
347 c.i. fuel-injected V8
310 hp 400 ft/lbs of torque
Only 630 of these were built in 1957, sold for $5782.
Pontiac equipped this model with fuel injection, one of the first to do so in the
medium priced field. While the 3-2bbl carb setup was faster in the quarter mile,
the fuel-injected version turned the 0-60 mph in 8.1 seconds. It won the Grand
National championship with a top speedof 101.6 mph. It broke all existing records
during the NASCAR trials at Daytona.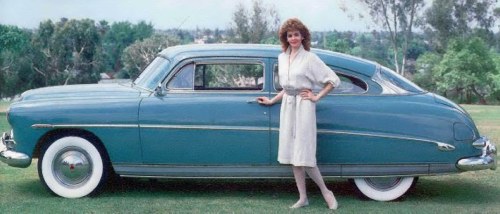 1953 Hudson Super Wasp Two-Door Brougham
262.0 c.i. Inline Six
127 hp @ 4000 rpm
Averaged over 20 mpg with Hydra-matic transmission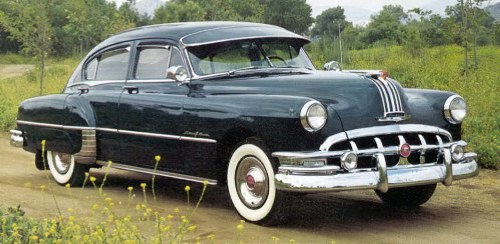 1950 Pontiac Streamliner Deluxe
268.2 inline 8 cyl.
108 hp
Top speed of 86 mph
This particular car has all of the available accessories.

Pontiac had re-designed the electrical system to minimize static
impulses leading their advertising men to coin the slogan,
"If your television screen remains clear when a car drives by,
then you'll know it's a Pontiac."
Whether the ad increased sales or not, Pontiac set an all time
production record in 1950 of 453,047 units.

1956 Chevrolet Bel Air Coupe
265 c. i. V8
225 hp
Equipped with two four barrel 375 cfm carbs., solid lifters and 9:25
compression ratio heads this car could turn the 0 - 60 in 8.9 secs.
Tom McCahill of 'Mechanics Illustrated' called it the poor man's Ferrari.
In Feb. 1956 a '56 Chevy hit 136 mph at Daytona but was disqualified
when it was found that the fan belt 'mysteriously' separated providing an
extra 15 - 25 horsepower.
Officals claimed it was intentionally planned by Chev's engineers.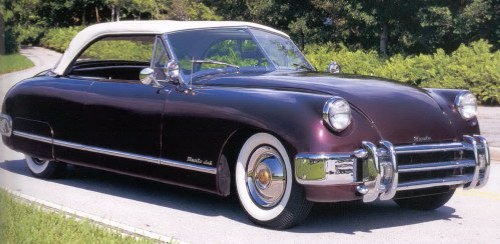 1953 Muntz Jet Convertible
317 c.i. Lincoln V8
160 hp
The Muntz was very innovative for it's time. It used a hydra-matic transmission from
General Motors, featured a removable convertible hardtop (popularly known as a
Carson top that was created by customizers of the era), had full instrumentation of
Stewart Warner gauges, seat belts, bucket seats, and a floor console.
Like so many others that attempted to compete with the "Big Three", i.e. Ford, GM,
and Chrysler Motors, it also faded away after a total production of about 500 units
built from 1949 through 1954.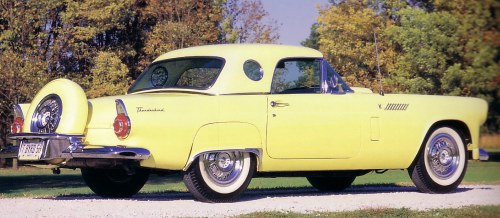 1956 Ford Thunderbird Convertible
312.0 c.i. OHV V-8
225 hp @ 4500 rpm
Removable Hardtop with porthole windows was an option


This sites birthday: 06/28/2000. Updated: 01/15/2004
All contents of Ed Walkers "Cars of Yesteryear™" web pages may not be used or reproduced
without prior written permission. Any or all images, names, banners, or music appearing in
Ed Walkers "Cars of Yesteryear™" are understood to be copyrights or trademarks of the relative
owners and are used here for illustration, description, or reference ONLY.