Cars of Yesteryear
|
home




Muscle Cars-Part One


song playing "Duke of Earl "
Beginning in the fifties through the seventies, the heyday of
America's muscle cars, life on the road had changed forever.
These new monsters looked great, sounded powerful, commanded
attention, and drove with ground pounding excitement.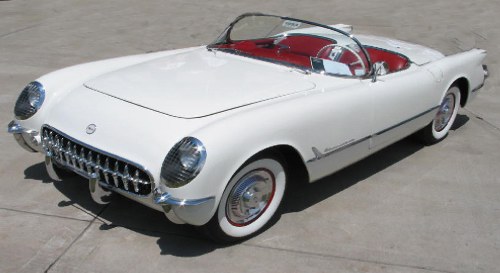 1953 Corvette
The first year for Chevrolet's new sports car.
This is number 107 of 300 made in '53.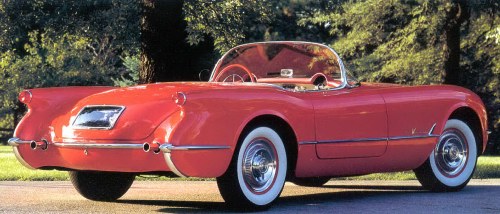 1954 Corvette
'Blue Flame' straight six cylinder
155 hp
3 one bbl carbs
Dual exhausts
Powerglide automatic transmission
The Corvette, "Americas first true sports car" was born in 1953.
300 were built in '53 featuring fiberglass bodies in only one color,
'Polo White'. In 1954 Chevrolet planned for 10,000 units but ceased
production after 3,640 Corvettes were built due to lagging sales. It
seemed that no one wanted a car with a six-cylinder and automatic
transmission and the car almost died from lack of interest. That all
changed in 1955 with the addition of the famous small block V8.
Americas' legend was here to stay and never looked back.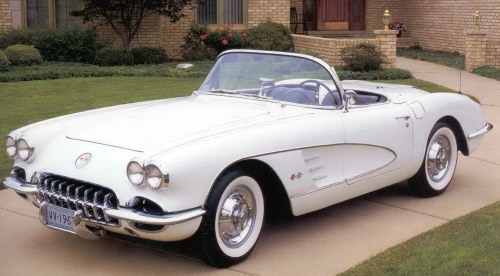 1958 Corvette Convertible
283 c.i. V8
Ramjet Fuel Injection produced 290 hp.
The '58 body style was a one year design, although the '59 had a
similar shell, the louvers on the hood and deck-lid chrome was omitted.
The simulated air-ducts under the quad lights was functional when the
optional racing brake package was ordered.
Total sales in 1958 was 9,168 units. With a four-speed manual trans-
mission it turned 0-60 in 5.7 seconds and the quarter mile in 14.3 seconds.
All in all, the Corvette's place in auto history was assured.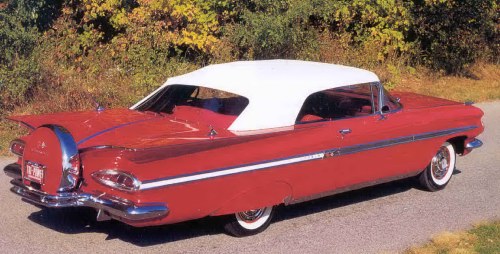 1959 Chevrolet Impala Convertible
348 c.i. V8
315 hp
Three Rodchester two-barrel carbs
Floor mounted four speed transmission.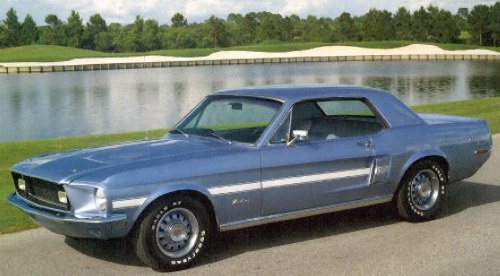 1968 Mustang California Special
While many people have confused this car with the Shelby Mustang,
in actuality it was a low production model built only in 1968 for the
California market. Engine choices ranged from a modest six cylinder
to a monster 428 c.i. Cobra Jet.
Slighly less than 5000 of these models were built.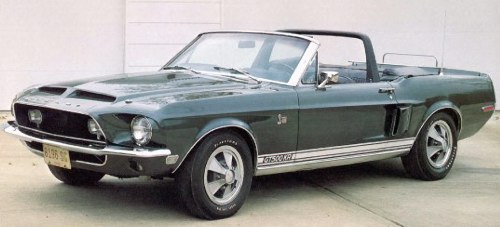 1968 Shelby Mustang Gt500KR
428 c.i. Cobra Jet V8
335 hp
This GT500KR (King of the Road) is an extremely rare model, only 318
of the Carroll Shelby convertibles were built.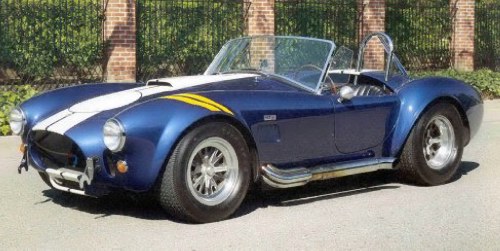 1965 Ford Cobra 427-SC
427 c.i. OHV V8
425 hp
This is one of a limited number of competition Cobras


1966 Oldsmobile Cutlass 4-4-2
400 c.i. Rocket V8
360 hp with L-69 tri-carb option.
Don't be fooled by the size of this "Big Red" machine, it ran the
quarter mile in under 14 seconds at 100 mph, not bad in '66.
Only 2,129 of these monsters were built.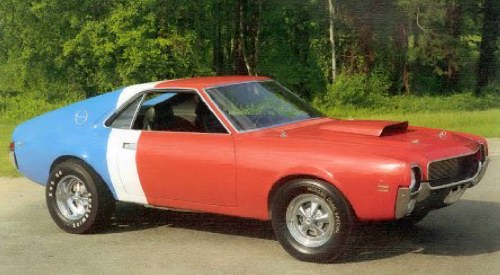 1969 American Motors AMX Hurst Super Stock
390 c.i. V8
Equipped with Edelbrock cross-ram intake mounting dual Holley four barrel carbs
Crane modified 12.3:1 heads.
340 hp was tremendously underrated.
Only 52 of these were built by Hurst for the drag strip.
This one has special factory paint job and Hurst wheels.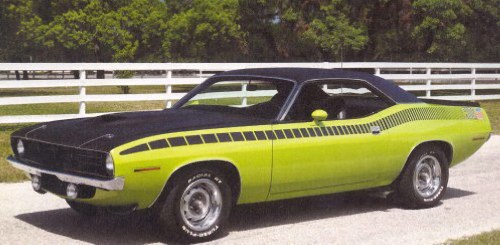 1970 Plymouth AAR 'Cuda
340 c.i. Six-Pack
Factory rated at 290 hp
In actual fact, it was closer to 325 hp.
Engine had special heads, Edelbrock intake, block was modified
with special valve train and much more. Only 2724 AAR 'Cudas
were built. One shown here is one of 1100 with four-speed.

1974 Plymouth 'Cuda 360
The Barracuda was introduced by Plymouth in 1964.
Although the big block hemis were awesome, the sleek
little 360 endured due to good design and durability. It put new
meaning to the expression " small block screamer".