Cars of Yesteryear
|
home




Muscle Cars-Part Two


song playing "Little GTO"
These cars weren't built to go to the grocery store or get
high mileage. They had one purpose, and that was to get you
down the quarter mile faster than the next guy. Oh, then they
cruised the local drive- ins so everyone could see and hear them.


A typical Saturday night at the local drive-in.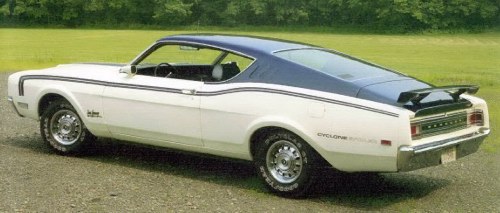 1969 Mercury Cyclone Spoiler II
the "Dan Gurney Special"
351 Windsor V8
290 hp
This is a street replica of Dan Gurney's 1969 NASCAR Cyclone. A nearly
identical "Cale Yarborough Special" was also built by Mercury. Gurneys'
was blue/white and sold in the Western U.S., Yarboroughs' was red/ white
and sold in the Eastern U.S.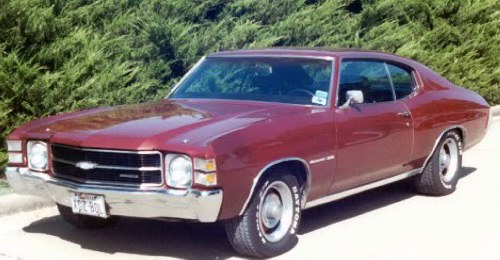 1971 Chevrolet Chevelle 2Dr Hardtop
350 c.i. four bolt V8
275 hp
Equipped with Edelbrock Performer carb and intake manifold, Mallory Unilite
ignition, 350 automatic, PS, PB, Airconditioning, AM-FM cassette radio,
dual exhausts with crossover pipe.
121,000 actual miles
This is my own personal daily driver, a totally reliable car.
Engine is currently being rebuilt like new and will produce
approximately 300hp when finished.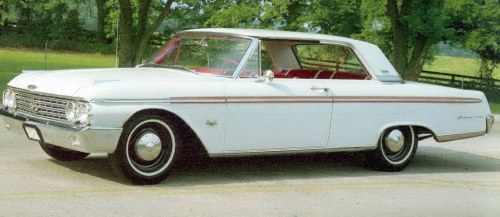 1962 Ford Galaxie 500
406 c.i. V8
405 hp
Equipped with three 2 bbl Holly carbs and 10.5:1 compression heads.
This unassuming little car was advertised by Ford as "The Sleeper".
It was actually a dynamite muscle car that required Ford to beef up the
drive-shaft, universal joints, rear axle, and add heavy duty shocks and
springs to get all this power to the ground.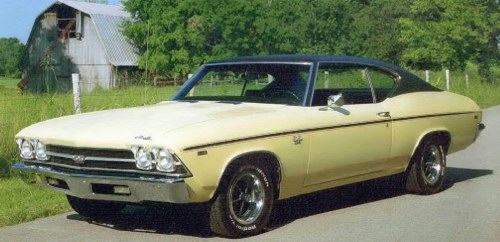 1969 Chevrolet Chevelle SS-396
396 Big Block V8
325 hp with 410 ft-lbs of torque
This aggressive Chevy could take the quarter-mile in 15.9 secs.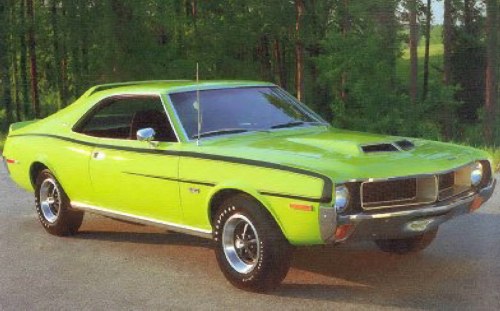 1970 American Motors Javelin
known as the "Mark Donahue" Javelin
390 c.i. V8
325 hp
Only 2501 were built.
They featured the ram-air hood, 4-speed, dual exhausts, handling package.
This one sports the roof mounted spoiler.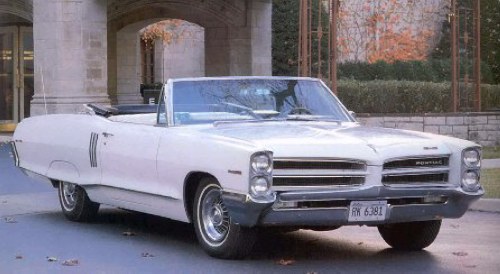 1966 Pontiac 2+2 Convertible
421 c.i. V8
338 hp with standard four-barrel
376 hp with optional Tri-Power (3-2bbls)
The 2+2 offered both power and luxury with power steering,
power windows, air conditioning, and AM/FM stereo.
Model shown here has the optional fender skirts.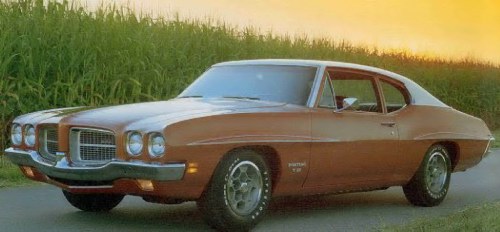 1971 Pontiac T-37
455 c.i. High-Output V8
335 hp
No more than 30 produced in 1971
Quadra-jet carb, 400 turbo automatic, and slicks put it down the strip in 12.75 secs.
In '71 that must have been quite a ride!