Cars of Yesteryear
|
home




The Thirties Era


song playing "Beer Barrel Polka "
Our country was still in the midst of the "Great Depression",
but for those that could afford them, American automakers
was producing a variety of great cars.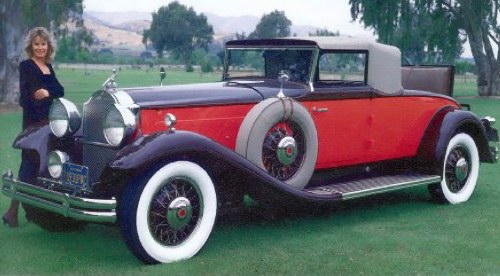 1931 Packard Le Baron Convertible Coupe
384.8 c.i. Inline eight cylinder
120 hp @ 3200 rpm
Body was custom built by Le Baron Coach works.
Sported Detroit Lubricator carb, automatic chassis lubrication system,
mechanical brakes, four-speed transmission, and shatterproof glass.
A very rare automobile.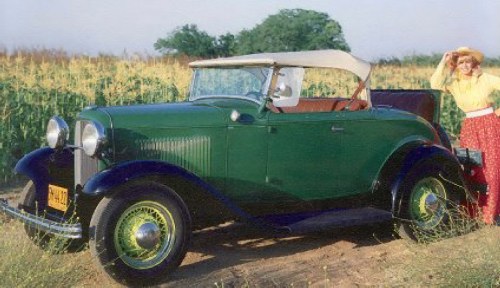 1932 Ford Rumble seat Roadster
200.5 c.i. Inline four-cylinder
50 hp @ 2800 rpm
Standard equipment featured Zenith carb, fuel pump, four wheel brakes,
silent second gear, floorboard starter button, double acting shocks, and a
"theft proof" ignition lock.
Even with Henry Ford marketing his cars to the mass public,
many Americans couldn't afford one.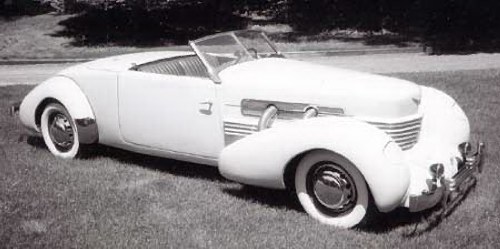 1937 Cord 812 Sportsman
289 c.i. L-Head V8
175hp@4200rpm
Price new $2585 - Can sell for up to $145,000 in fully restored condition.
The most glamorous Cord of all was the Sportsman convertible with its flush-fitting
metal top cover. In 1937 the Cord line was enhanced with an optional centrifugal
supercharger which added further luster to the car's image by using chrome exhaust
pipes like its big brother Duesenberg SJs. Inside, the Cord was as new and different
as outside. An engine-turned dash panel held a group of round and fan-shaped gauges.
Shifting was done via a small lever moved with a fingertip. Cranks on each side of
the dash raised and lowered the headlamps. Only the best leather was used in the
convertibles and interior accents such as door handles and window cranks were
done in Art Deco style and utilized colorful plastics. Sighting down the long hood
from the driver's seat, you notice that it's one piece rather than hinged and that
no hood ornament points the way, as in conventional 1930s cars.
There is no radiator grille as such but rather a series of chrome-accented horizontal
slats wrapping around the sides of the hood, a styling feature that would be copied
by a number of U.S. makes including Cadillac in a year or two.
As stunning as the Cord was, it was not without some problems. It had been rushed
to production in a very short time to satisfy the sales demands and the build quality
initially suffered. The front wheel drive system, while greatly improved from the L-29
Cords of 1929-1931 was still a complex and temperamental arrangement requiring
special mechanical skills to maintain and repair, something that was definitely lacking
in the very thin Cord dealer organization and service outlets. That is one of the reasons
many 810/812 Cords were converted by owners to rear drive/ohv V-8 power in the '40s
and '50s. Still, as with some exotic cars today, the Cord owners were willing to put up
with these problems simply because the cars were so drop-dead gorgeous.
Today the 810/812 Cord is one of the design icons of the automotive age and one
of the linchpins of the Classic Car Club. Most all the unrestored Sportsmen have been
found and brought back to as-new condition, so finding a "project" car isn't easy.
Conversely, a project can chew up untold amounts of time and money-remember,
these are complicated automobiles-and it is only in the past few years that their
selling prices among collectors have been enjoying a steady upward march. This shows
no signs of abating and if your checkbook can stand it, a Cord like this one restored to
show standards could prove to be a good monetary investment as well as an investment
in exquisite automotive esthetics.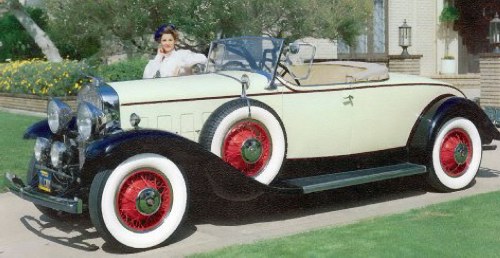 1931 Cadillac Series 355A Rumble seat Roadster
353 c.i. V8
95 hp @ 3000 rpm
Cadillac was the "classic-era" design with bodies by Fisher and Fleetwood.
Technology of the day put the battery under the seat, engine mounted on
four rubber cushions, cooling system with condenser tank, and metal floorboards.
The six wire wheels, the spares side-mounted, was a $240 option.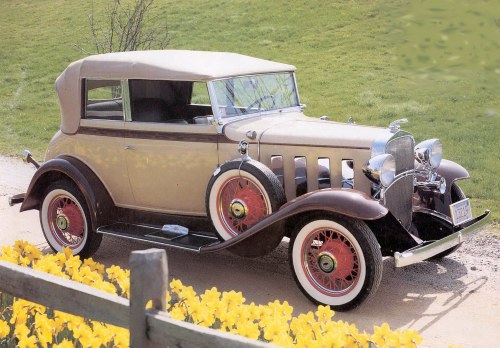 1932 Chevrolet Landau Phaeton
60 hp
This sleek beauty sold new for $640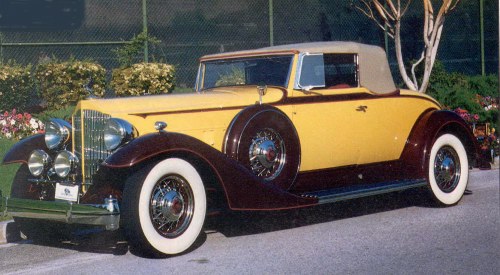 1933 Packard Convertible Roadster
446 c.i. V12
Single 2-bbl carb
160 hp @ 3200 rpm
Some of this cars features include teardrop style headlights with peaked
lens, optional accessory driving lights (mfg-Pilot Ray) that were linked to
the steering so that they turned with the wheels. The optional vent window
glasses are linked to the door so that they swung out of the way when the
door was opened. Not visible on the right side is a door that opens under
the drivers seat for carrying a set of golf clubs. The dash panel is made of
polished burl walnut. Car also has the rumble seat trunk compartment.

1932 Auburn Custom Speedster
Model 8-100-A
100 hp
This slick little "boat-tail" roadster could have been yours for $1,295,
but that was in 1932.

1933 Lincoln KB Judkins Coupe
448 c.i. V12
150 hp @ 3400 rpm
This is one of only two coupes with a rumble seat.
Equipment includes dual downdraft carburation, Autolite
ignition, thermostatic radiator shutters, vacuum brakes,
double-disc clutch, silent second gear, four point rubber
engine mounts, hydraulic shocks, and a 110 mph speedometer.

1930 Graham Paige Model 837
120 hp
Price when new $2,245